This post and the photos within it may contain Amazon or other affiliate links. If you purchase something through the link, I may receive a small commission at no extra charge to you.
You're going to love this Girls Gone Glamping party, which is perfect for Girls Night In, Bachelorette Parties, Bridal Showers, and Birthdays. Grab your girls and check out these glamping party ideas for your own outdoor fun!
Get ready to embrace the beauty of nature as we set out on a journey that blends the essence of bohemian freedom with the cozy ambiance of your very own outdoor space.
Picture you and your friends gathered in your backyard, indulging in gourmet s'mores by the campfire, and sharing laughter under the stars.
Whether you're celebrating a special milestone or gathering just because this boho-inspired glamping party creates an atmosphere designed to foster moments of connection with your dearest friends. 
This post may contain affiliate links, which means if you make a purchase from my link I may make a small commission at no cost to you. For more information, visit my disclosures page.
Camping or Glamping?
Camping versus glamping – it's like comparing a wild jungle adventure to a pampered cat's stay at the fanciest cat hotel.
When you go camping, you become one with nature, battling mosquitoes in an epic showdown, and trying to build a fire that looks more like a confused bonfire dance.
Meanwhile, glamping is all about channeling your inner royal in a decked-out tent that would make Cinderella jealous. No need to wrestle with tent poles or sleep on a rock masquerading as a bed – here, it's all about lounging on plush cushions and enjoying gourmet s'mores while debating whether marshmallow-to-chocolate ratios really matter.
And camping with kids is a whole other ballgame. I know some of you are serious outdoorsy folks and camp with kids all the time but for the rest of us, it's hard!
Camping with kids is like embarking on a wild expedition with a pack of tiny explorers who are convinced that every stick, rock, and bug is a new member of the family.
Setting up a tent becomes a chaotic dance of fabric and poles, where teamwork and patience are put to the ultimate test as you try to wrestle a toddler into a pack 'n' play.
Earlier this Summer my family and I went camping at a state park in Wisconsin, where I have been camping since I was in Kindergarten.
Even though we have a pretty nice camp set up with a large tent and cots, with two toddlers in tow, it was not your definition of glamping.
Update: In fact, we took a few years off from camping after this experience, but I might be ready to try it again!
Maybe someday I'll make my glamping dreams come true with the ultimate luxury experience.
In the meantime, imagine my delight at getting the opportunity to create a fun backyard glamping party, Girls Gone Glamping, with some other local party stylists: Holly from Legally Crafty, and Twin Cities event planner, Lisa Murphy.
Girls Gone Glamping Party Design Theme
As always, once a theme is decided we thought about the look we were going for. We settled on a Boho chic vibe using a color scheme of black, white, green, and pink.
I love the pops of hot pink throughout the printables and party decorations and using a mix of fonts, including a cursive script, to repeat across all of the party printables.
I was so excited when I came across the Boho pattern I used as the background in the printables and was even more ecstatic when we found similar prints within the rest of the party decor.

Finally, we wanted to use a lot of greenery to bring nature to the forefront of the party. The entire look is definitely boho chic meets the outdoors.
Boho Glamping Tablescape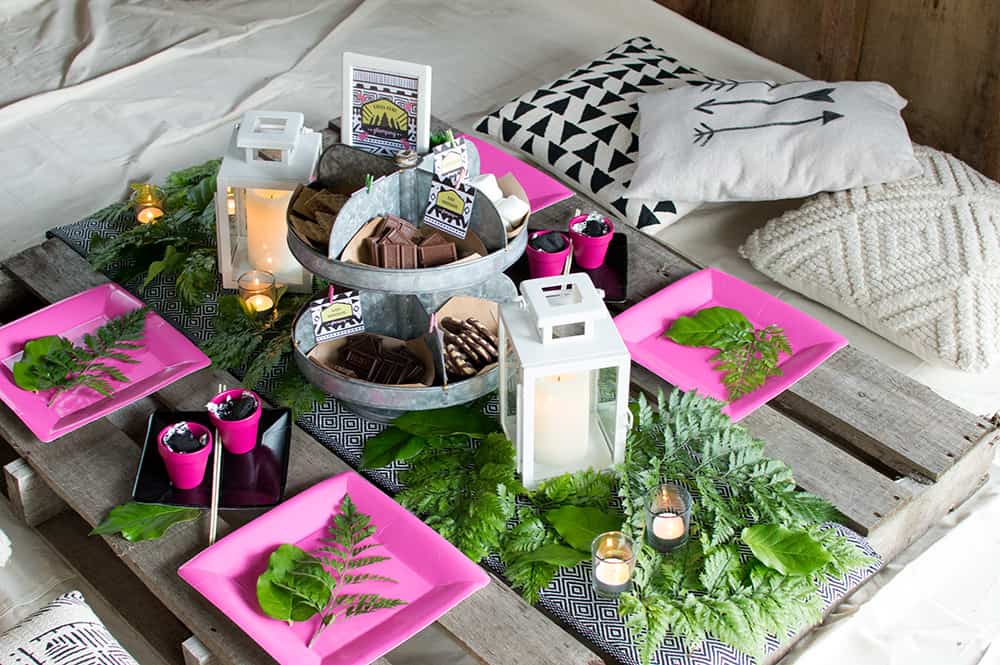 You don't have to leave your own backyard to throw an amazing glamping party. Use what you have!
While Holly has an amazing clubhouse in her backyard that was the perfect space for some wining and dining, you can create your own glamping space with an ordinary camping tent or simply throwing down a canvas drop cloth, like we did to cozy up the space.
Using a pallet as our table, we layered on an Ikea table runner (one of those amazing finds with a fun black and white print), and fresh greenery, which Lisa has an amazing talent of arranging.
Lanterns, candles, s'mores station and ingredients (more on that in a bit), and a place setting for each guest, along with comfy pillows, from Hobby Lobby and Holly's collection, complete the look.
Glamping Party S'mores Station
What's camping without some ooey gooey delicious s'mores?
But these aren't just ordinary s'mores. We took it up a notch with some gourmet goodies, including dark chocolate, Reese's Peanut Butter Cups, and striped cookies.
I placed all of the s'mores ingredients in a galvanized metal tiered tray I picked up from Home Goods earlier in the Summer. I love how it spins, making all of the ingredients super accessible for all party guests.
I used some paper food trays that were leftover from the Lumberjack birthday party in each section and then filled each with the ingredients, with little tags to identify each option.
Of course there's also a party sign directing guests to the yumminess ahead.
Each table setting had individual s'mores stations, no campfire needed! Holly has a DIY tutorial on her blog to help you create your own.
Don't forget to use some lighter fluid to get these babies started, and use precautions. We had some heavy-duty gloves on hand to handle these — they get hot!
Glamping Hydration Station
It's important to stay hydrated when glamping, and my beverage choice is always champagne.
I styled a hydration station with mini champagne bottles and water, both dressed up with custom labels. The champagne bottles also had my signature straw flags.
You know what's funny, though? I find it incredibly hard to drink champagne out of a straw because it tends to get super fizzy and overflow. Do you have that problem?
Fire Starter Kit Favors
We sent our guests home with some mini fire starter kits that Holly put together. The details on how she made them can be found over on her blog, Legally Crafty. I love how cute they look with the little fire start kit tag I made.
Of course I had to add a sign for the favors, and loved the play on words to The Doors' classic, "Light My Fire."
Trail Mix Bar
You're sure to work up an appetite when out in the "wilderness."
Lisa put together this gorgeous trail mix bar to keep guests satiated. Using a variety of jars, paper sacks, and containers, along with baskets to add height, the trail mix bar is elegant and full of nutritious and delicious goodies, like goldfish, nuts, cheerios, marshmallows, pretzels, and M&Ms.
Don't forget to have little containers or bags on hand so guests can create their own blend.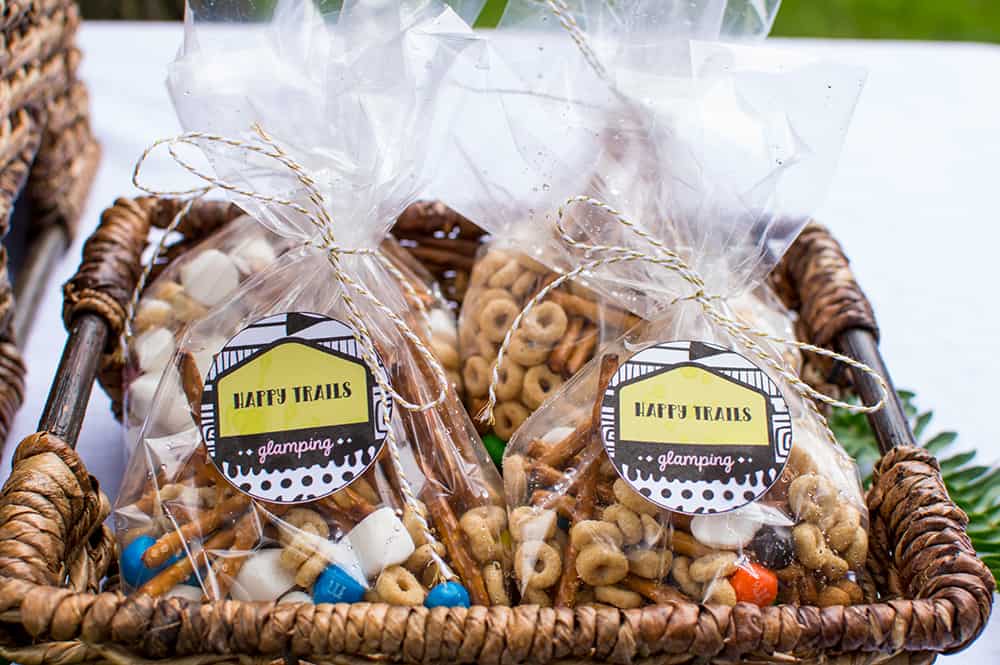 Fresh greenery and neutral colors on the table make the party sign pop. You can get a Trail Mix Bar sign like this printed at Costco for under $6. Just use a frame and easel display stand and your table is all set.
Hope you enjoyed this Girls Gone Glamping Party. It really doesn't take much to enjoy the outdoors in style.
The key ideas to keep in mind when you are hosting a backyard glamping party are to soften up your space, serve yummy food and treats, and a fun drink whether this be alcoholic or a yummy mocktail. The choice is yours!
---
Want to recreate this look?
Shop the Printables
---
Additional Decor Items
Pillows: Hobby Lobby
Drop Cloth: Amazon
Metal Tiered Tray: Home Goods
Lanterns: Target
Add a variety of apothecary jars, baskets, and wood crates and containers to complete the look.
S'mores station DIY, fire starter kits, and arrow sign tutorials: Legally Crafty
Happy Glamping!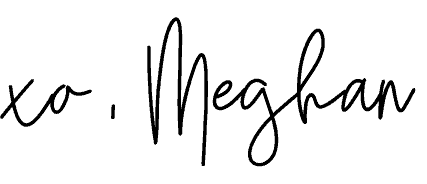 If you like what you see, please COMMENT, PIN, SHARE, or TWEET! I'd appreciate the love!