This post may contain affiliate links, which means if you make a purchase from my link I may make a small commission at no cost to you. For more information, visit my disclosures page.
This DIY Fortune Cookie Toss game is a super fun Ninja Party Activity for Kids. Follow the tutorial and grab the free printable.
Add a fun party activity to your Ninja Birthday Party with this DIY Fortune Cookie Toss Game. Today I'm sharing all the details and a free printable game file so you can create your own.
DIY Ninja Party Game: Fortune Cookie Toss Supplies
You will need the following supplies:
Foam Board – get at a local office supply or craft store or available on Amazon
Free Printable Game Pieces + Sign (download in the printable library)
Scissors
Fortune Cookies – get these from your food caterer or order on Amazon
Fortune Cookie Toss Game Tutorial
Step 1: Gather your Supplies
See the list of supplies above and lay everything out.
Step 2: Download, Print, and Cut Out Free Game Printable
Find out how to download the free game printable at the bottom of this post.
Step 3: Attach the Bamboo Contact Paper to the Foam Board
Slowly peel off the backing and place on the foam board. You'll want to smooth out any air bubbles with your hands.
Step 4: Glue the Game Pieces to the Takeout Containers
Glue your cut out game circles to the takeout containers.
Step 5: Glue the Takeout Containers to the Foam Board
Now glue the takeout containers to the foam board, strategically placing them on the board.
Step 6: Display Your Game, It's Time to Play!
The ninja party game is ready to play. Set it up and grab your fortune cookies. Each player will toss the fortune cookies into the takeout containers, trying to get as many points as they can. The Ninja(s) is worth 10 points! Or make up your own rules!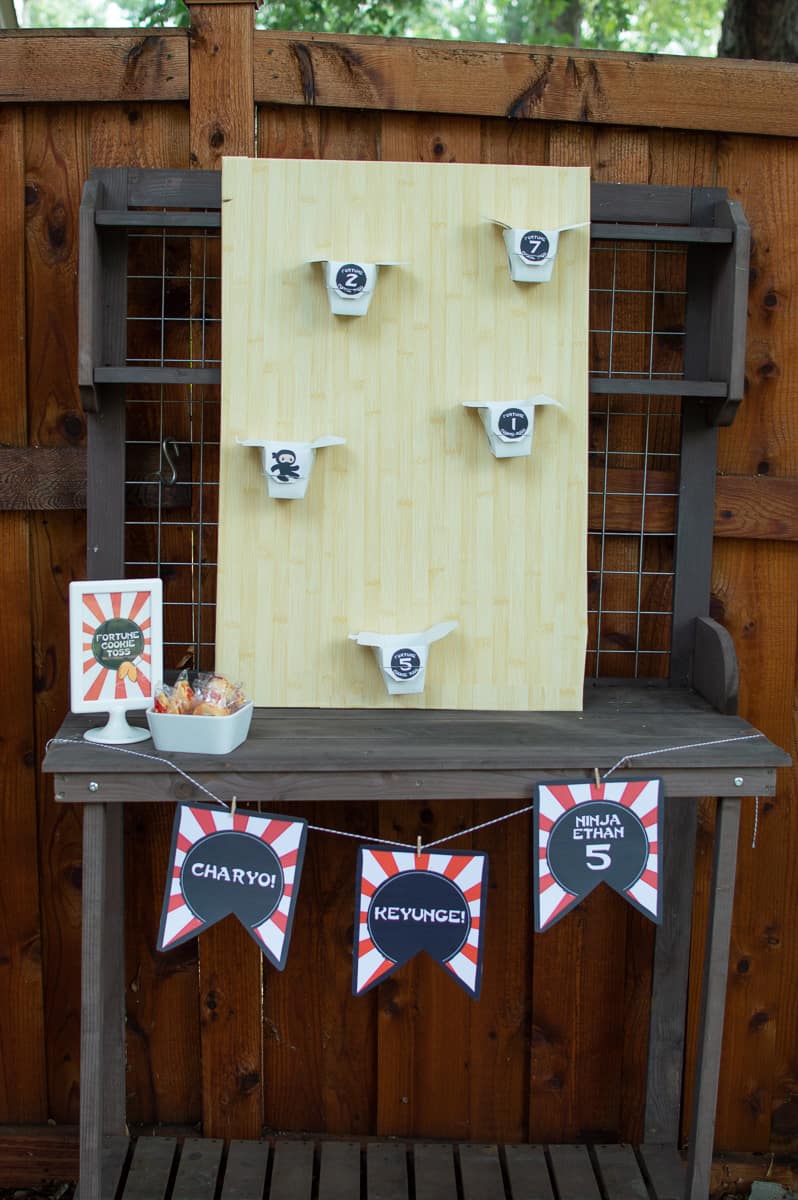 Be sure to check out the entire party!
Download the FREE Fortune Cookie Toss Game Printable
Ready to make your own ninja party game?
To access the free printable, sign up for my newsletter below to get access to the password. You'll have access to all of the free printables on the blog!
Already have the password? Click here to be taken to the download area.
I hope you enjoyed this ninja party activity. The entire tutorial is available below in this graphic. Be sure to pin it for later!
If you like you what you see, please COMMENT, PIN, SHARE, or TWEET! I'd appreciate the love!