This post and the photos within it may contain Amazon or other affiliate links. If you purchase something through the link, I may receive a small commission at no extra charge to you.
Loads of St. Patrick's Day party ideas below, including decor and menu ideas. Don't forget to grab the free Lucky You St. Patrick's Day Party printables.
St. Patrick's Day is celebrated every year on March 17th, but usually spreads out across the weekends before and after — I kind of love holidays that demand that!
We had a Lucky You St. Patrick's Day party to celebrate the upcoming holiday.
Whether you are Irish or not, St. Patrick's Day is plenty of fun and it's more fun with friends, right?
That's why I'm teaming up with 8 other bloggers to share ideas for your own St. Patrick's Day celebration.
Visit all of the blogs listed below for amazing ideas!
This post may contain affiliate links, which means if you make a purchase from my link I may make a small commission at no cost to you. For more information, visit my disclosures page.
Lucky You St. Patrick's Day Party
If you've been following along, you know I love a big pièce de résistance and the main party table is just that.
Using a rainbow table cloth roll (which I also used for the Rainbow Book Baby Shower a few months back) and glittery shamrocks from Oriental Trading, I created the beginnings of a bright and bold backdrop.
I'm a little obsessed with my Silhouette Cameo these days, and thought it would be fun to cut out "Lucky You!" in a fun font.
That gorgeous banner is from Sweet Georgia Sweet. I love the bright colors and the sparkly shamrocks. It comes with these little looped ends that were perfect to hang on the knobs of my console table.
This Lucky You St. Patrick's Day Party Sign is easy to print at home and frame, and I love how it incorporates even more of the rainbow theme in the party decor. You can grab this free printable here.
The St. Patrick's Day Party Bar
I love a fun bar setup and decided to include both drinks and dessert on the same table and create a little bar on one end.
This rustic crate was a great find and I have incorporated it into so many parties since I bought it. You might remember it from the hot cocoa bar at the Minnesota Lumberjack Party last Fall.
Earlier this year I was browsing the Oriental Trading website and came across these Leprechaun cups. I knew that they would be a great addition to my party and the perfect vessel to serve my signature cocktail, The Big Ginger.
I also picked up cute stir sticks and straws, which I added a little flag to. My Silhouette Cameo made cutting these out a breeze!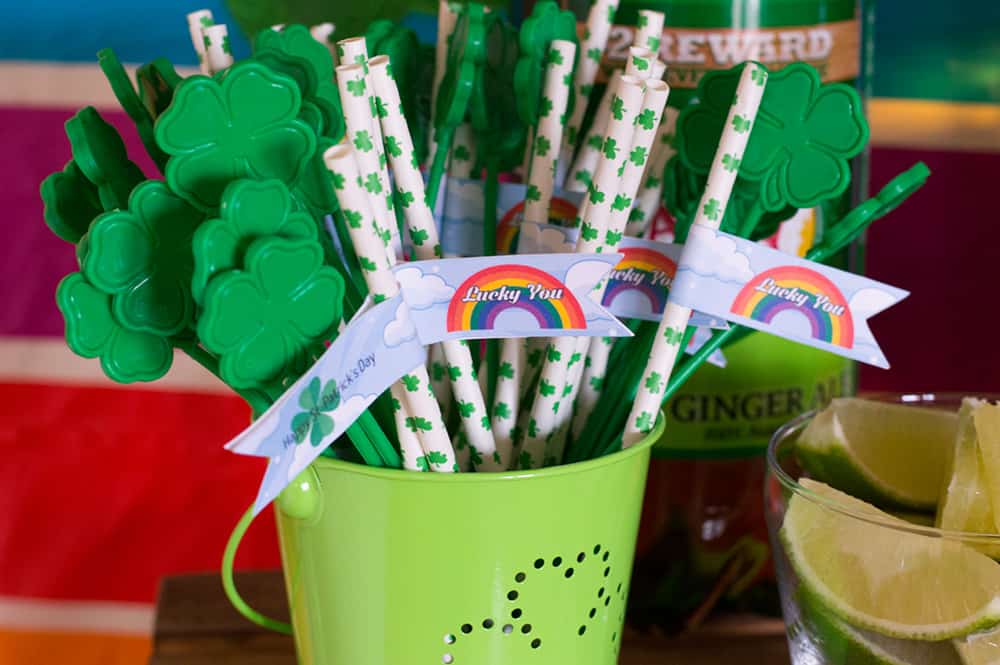 The Big Ginger
I'm not a huge whiskey fan, but this cocktail is so delicious (and also dangerous because it goes down so smooth, so be careful. I usually keep it to one!)
Directions to make The Big Ginger:
Ice

2 oz. (1/4 c.) of 2 Gingers Irish whiskey

1 c. ginger ale

Wedge of lime and lemon for garnish
Fill a glass (collins work best) with ice and pour the 2 Gingers whiskey over it. Add the ginger ale, garnish with the lemon and lime.
We also had a big old ice bucket full of (mostly) Irish beer.
Irish Party Food Menu
Corned Beef and Cabbage Sliders
I didn't follow this recipe from The Cookie Rookie exactly (we boiled the Corned Beef rather than use the slow cooker) but it was the basis for my inspiration.
We decided to keep the food "appetizer style" and sliders are the perfect little one hand sandwiches.
We used two different types of buns. The top is a pretzel bun, the bottom image uses Kings Hawaiian Honey Wheat Rolls.
Potato Bites
These Irish Potato Bites from Home Made Interest were the perfect side for more Irish cuisine. I also didn't follow this recipe exactly as we excluded the corned beef. I'll have to make them again with the leftovers to try the full experience.
These were easy to put together, but I found using a melon baller the key to getting a good scoop without breaking the fragile skins.
Guinness and Whiskey Cupcakes
These Guinness and Whisky Cupcakes were to die for. I wish I would have gotten better pictures, but you can head over to my inspiration to see really pretty ones.
First off, I took two different recipes to make this creation.
For the cupcakes, I followed these amazing Irish Car Bomb cupcakes from The Brown Eyed Baker. I followed the recipe exactly for the cupcake and the whiskey ganache filling, but made Maple Irish Whiskey Buttercream frosting from Cupcake Rehab.
Don't ask me why I meshed the two, it just sounded really good. And I can attest that it was.
I totally need to work on my piping skills, but I'm getting there.
Cake
The cake is a simple box cake with decorators icing. Truth be told I needed a non-alcoholic option for the kids and didn't want to spend too much time on it (but I also wanted to practice my decorating skills! Ha!)
So I made it, frosted it, and topped it off with Sweets Indeed Candyfetty in Neverland. I ordered it before I saw they have a St. Patrick's Day mix.
Our event was full of good food, drink, and conversation. We even pulled up some Irish jigs on YouTube and attempted to dance along! The kids loved it!
This Lucky You St. Patrick's Day celebration was a big success!
St. Patrick's Day Party Ideas Blog Hop
Now go check out the 8 other bloggers joining in on this St. Patrick's Day Blog Hop.
Hope you find some fun ideas for your own celebration.
Lucky You Party by Elva M Design Studio | Top of the Morning St. Patty's Day Breakfast from Happy Family Blog | Lucky Me I have You! party by The Party Porch | Festive Holiday Breakfast from Giggle Home Furnishings | Shamrock Drink Station + Pinch Me Punch from Legally Crafty Blog | St Patrick's Day Celebration from AK Party Studio | Follow the Rainbow Treasure Hunt + Pot of Gold Pancakes & Parfaits from Jolly and Happy | Lucky Charms Sweet Cart from Pretty Twinkle Party | Green and Gold St. Patrick's Day Tablescape by a la Mo
You can grab the Lucky Party Printables for free!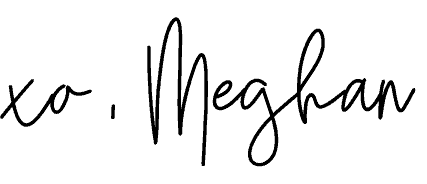 If you like what you see, please COMMENT, PIN, SHARE, or TWEET! I'd appreciate the love!