This post and the photos within it may contain affiliate links. If you purchase something through the link, I may receive a commission at no cost to you. Read my disclosure for more info.
There's an Upgrade in Progress at this Robot Birthday Party. Full of awesome details like a colorful gear cake, large robot cutouts, and fun printables. Read on for all the Robot birthday party ideas.
This last weekend was a madhouse over here, getting ready for not one but two birthday parties!
First up was my son, Ethan's, 4th birthday party and I did my best to get everything ready during the week prior, but it still felt like the clock was running out.
We kept it pretty easy in terms of food so I could focus on my favorite part — the decor!
Of course, guests showed up before I was officially ready, but we made the most of it and his Robot birthday party went off without a hitch to celebrate his 4th birthday.
In case you're interested, my second party of the weekend was a 60th birthday party with a fun theme: 60 flocking rocks!
This post and the photos within it may contain affiliate links. If you purchase something through the link, I may receive a commission at no cost to you. 
Upgrade in Progress: Robot Birthday Party
My first step for party planning is to pick a theme and I love when the kiddo can get involved and help choose something. This year we landed on Robots.
For a hot second he wanted Robots AND Dinosaurs, but I put the kibosh on that one real quick! We did dinosaurs last year!
Before I even started on creating the invite and printables, I wanted to get an idea for the type of decor I could source so I first turned to one of my favorite party shops, Oriental Trading.
They have something for just about any theme and I was thrilled when I spotted several Robot items that would work.
Robot Birthday Invitation
Next, I moved on to the invitation design. I knew that I wanted to keep the printables colorful and fun for a four-year-old.
I thought using the phrase "Upgrade in progress" was a fun play on describing how he was turning a year older.
The colorful gears worked well as the background image throughout my designs, and I love how cute these robots are.
Robot Dessert Table
What's a birthday party without cake? I love styling dessert tables and ever since I got my potting table, I am obsessed with using it to display sweet treats.
The potting table is really functional for these types of displays, with several shelves and a metal grate on the back, which worked perfectly to display these Oriental Trading Gear Cutouts as a backdrop.
The inflatable tools and silver hanging paper lanterns, both from Oriental Trading, worked well to fill up the bottom. I love decorating those underneath spaces. They are the perfect spot to add some detail.
The star of the show is the cake and cupcakes, both from Target Bakery (available at SuperTarget).
They do a great job decorating and have several flavors to choose from. We went with a marble cake, fudge filling, and buttercream frosting. Yum!
I displayed the cupcakes in a metal tray with dividers that I picked up at Home Goods. I just love the warehouse feel of it.
To cut out the cake topper and robot toppers, I used my Silhouette Cameo. I adore this machine, as it saves a ton of time and you have the perfect cut!
Customized Robot Birthday Popcorn Boxes
We kept the food simple and served popcorn packaged in cute little mini silver popcorn boxes, some even had M&Ms added for a sweet surprise!
I added a gear cutout and a little popcorn printable to dress up the boxes and placed one at each setting. I put the extras on the food table because there's always room for extra popcorn!
It's Time to Eat, Pizza Bot!
For the main course I had pizza delivered and made a few salads to keep it super simple. I usually overdo it in the food department and then have a ton of leftovers. This time I wanted to spend my day with out-of-town family and just pull the decorations together as fast as possible.
The food table was so fun by using these giant robot cutouts from Oriental Trading as a backdrop, which I attached to my photography stand kit. The robot cutouts are really for teachers to display in their classrooms but worked perfectly for this use.
Toward the end of the party and after we ate, we actually pulled the table out and used it as a photo booth! So fun!
Robot Hydration Station
I also used one behind a drinks table to dress up that corner of my dining room. I added little straw flags, one of my favorite party details, and made wraps for water and Jones Soda "Robot Fuel".
Robot Birthday Table Setting
It was a hot (and humid) day but our backyard is becoming a lovely space so we like to be outside as much as possible.
While we kept most of the food inside, we set up several tables in the yard and encouraged our guests to chow down en plein air.
I wanted the colors to pop so I placed a silver plastic table cloth down first, and layered on colorful plates and napkin, topped with a popcorn box.
I placed a Rock'em Sock'em Robot game in the center of the table. Guests loved the classic game and I loved that it matched my color scheme!
Thanks a Bot Party Favors
Guests were sent on their way with sweet treats to say "thanks a bot!" Using clear large favor tubes, I added a custom tag and filled some with Skittles and some with M&Ms to please both the sugary and chocolate crowd.
DIY Robot Craft
Finally, I made my own DIY robot as an entryway decoration. I used boxes for his body and wrapped them in an extra table cloth. Then I attached some gear cutouts that I created with my Silhouette Cameo.
For his head I used a paper lantern and added some googley eyes, a smile, and some antennas made with straws and paper circles. Finally, I used cups for his arms. He was pretty silly but Ethan loved it!
The birthday boy thoroughly enjoyed his party!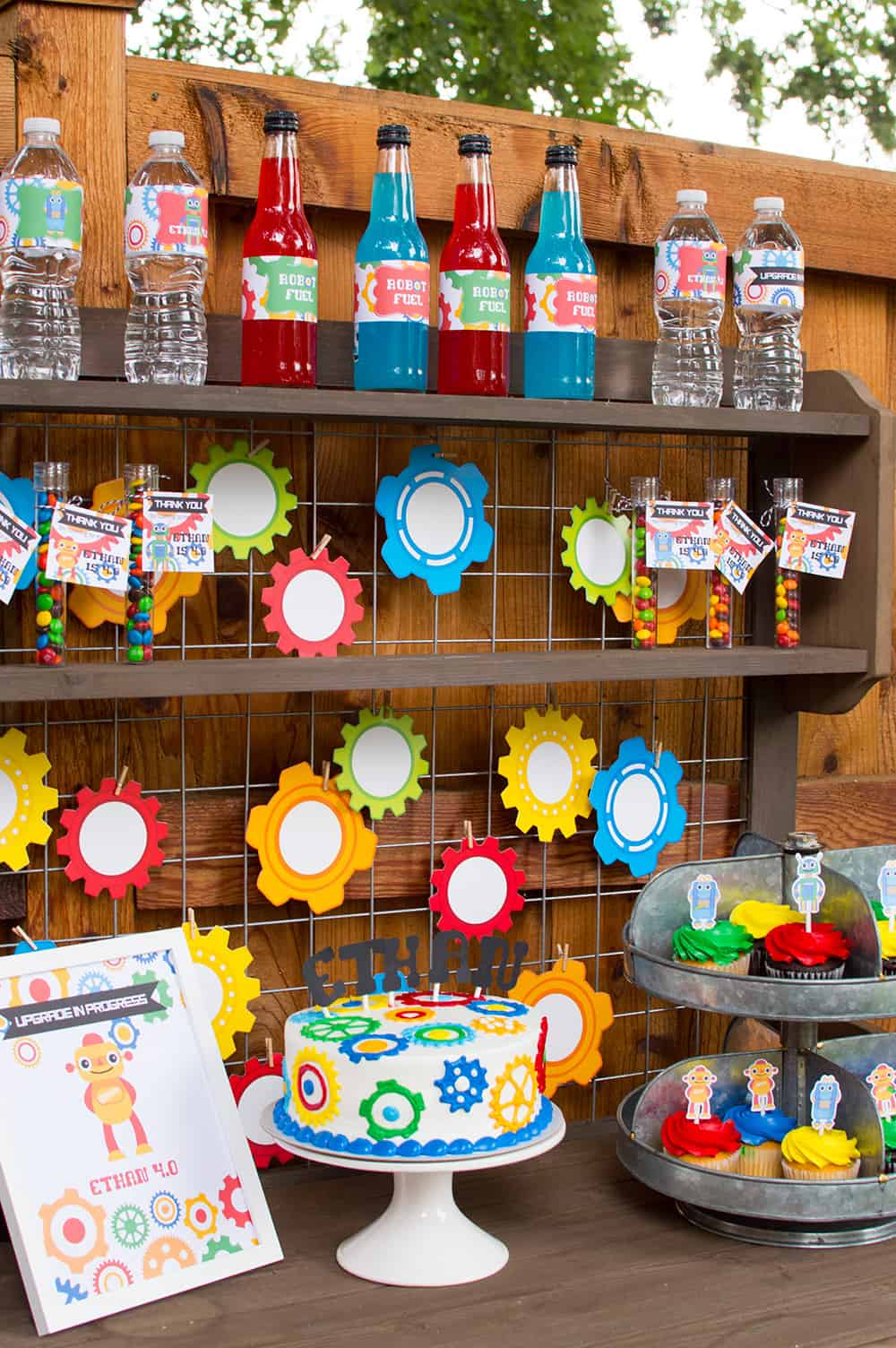 Robot Party Supplies Recap
Party Styling, Invitation, Printables, Photography: Elva M Design Studio
Giant Robot Cutouts, Gear Cutouts, Inflatable Tools, Paper Lanterns, Favor Tubes, Popcorn Boxes, Table Cloth: Oriental Trading
Cake, Cupcakes: Target Bakery
Cake Stand: Target
Cupcake Stand: Home Goods
Paper Plates and Napkins: Party City
Wood Utensils, Rock 'em, Sock 'em, Photography Stand: Amazon
Potting Table: Hayneedle or Amazon
4×6″ Frames: Ikea Tolsby Frames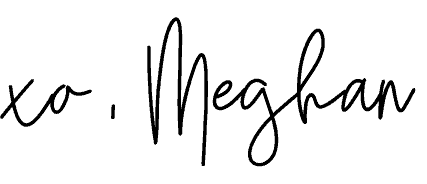 If you like what you see, please COMMENT, PIN, SHARE, or TWEET! I'd appreciate the love!
This review is based strictly on my opinion. I was provided samples free of charge by Oriental Trading to provide my honest review. No other type of compensation was received. All ideas and opinions are my own.