This post and the photos within it may contain affiliate links. If you purchase something through the link, I may receive a commission at no cost to you. Read my disclosure for more info.
Throwing parties is one of my favorite ways to spend time with family and friends. I love gathering people together whether it be for a birthday, a holiday, or simply just because.
Isn't it just a little more fun when there are party decorations to enjoy? Yeah, I think so too!
Decorating for a party doesn't have to be costly or time-consuming. From DIY party decorations to finding low-cost ready-made items, try these 8 easy decorating ideas for your next party.
This post and the photos within it may contain affiliate links. If you purchase something through the link, I may receive a commission at no cost to you. 
8 Easy Decorating Ideas For Your Next Party
1. Party Backdrop
I love the look that a backdrop can bring to your dessert table. There are a variety of ways to make one: use fabric, paper fans, table cloth rolls, paper cutouts, or a printable one. Check the backdrops in my shop for a custom printable backdrop.
You can simply attach a printable backdrop to the wall with 3M Command Strips. Get your backdrop printed at a print and photo center like Staples, Costco, or online at Vista Print.com or vivyxprinting.com.
See more from my Lumberjack Minnesota Birthday Party.
2. Paper Fans
As mentioned above, paper fans are so easy to incorporate into your party decor. Hang them up as a fun backdrop for your event. I love using coordinating paper fans in a variety of colors or patterns. You can either make them yourself or buy a set from a vendor such as My Mind's Eye, they even sell on Amazon Prime if you're in a pinch.
See more from my Noon Year's Eve Party.
3. Tissue Tassel Banner
Tissue Tassel Banners are an easy decoration item to include in your party. You can either make your own following a tutorial (like this one from Twinkle Twinkle Little Party), buy a DIY kit that has the tassels cut but not rolled, or purchase a fully assembled garland.
Shop Sweet Lulu has both DIY kits and fully assembled tissue tassel banners. GlamFete is another one of my preferred sources for fully assembled banners. Amazon also has a great selection of Amazon-Prime shipped garlands. You can hang the tissue tassel banner on your table or use it as a backdrop behind it.
See more from my Chippin', Dippin', Margarita Sippin' Party.
4. Coordinating Plates, Napkins, and Cups
Getting a cohesive look is as simple as choosing color coordinating plates, napkins, and cups for your event. You could even throw in some fun cutlery options, like metallic gold or wood to match to your theme's aesthetic.
You can find many options at places like Oriental Trading or Party City. Amazon is also a great source, as well as smaller party shops like one of my faves Sprinkles and Confetti. In fact, Jackie, the owner of Sprinkles & Confetti will assist you in putting together a custom party box! How's that for saving time?
5. Party Printables
Who knew paper could be the very best in party decorations? A set of party printables can take your party to the next level in the simplest of ways. Find a custom theme and print and assemble everything at home. I also offer a variety of free printables, that are perfect for celebrating a holiday or event.
Usually the only supplies you need to assemble all your party printables are a home printer, card stock, scissors, glue stick, a hole punch, baker's twine or ribbon, toothpicks or lollipop sticks, and straws.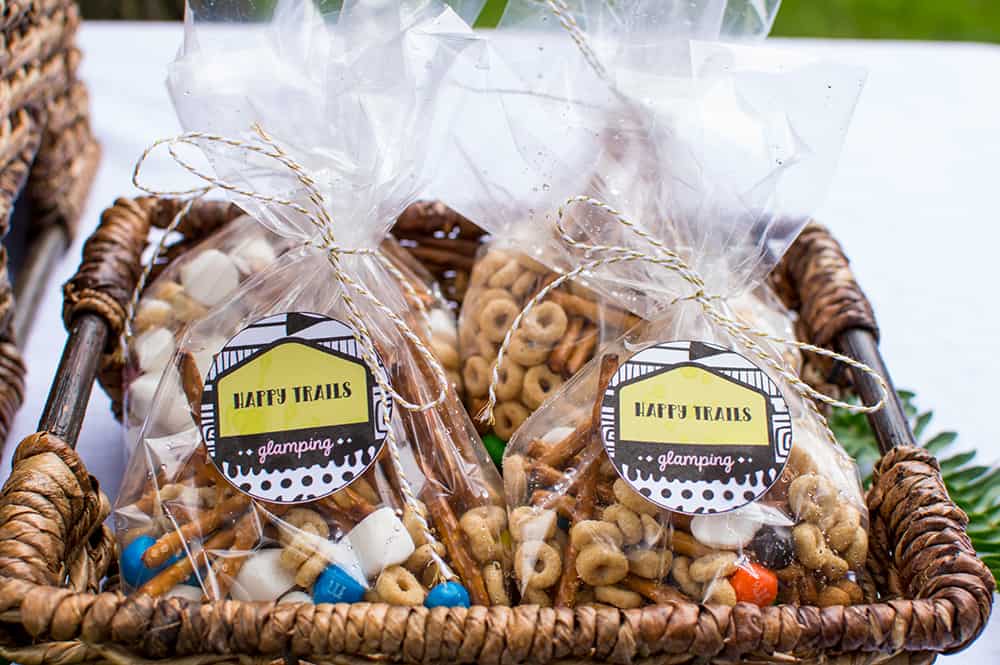 See more from this Girls Gone Glamping Party.
6. Candles
Candles add amazing and easy ambience to any party. From tea lights to votives to tapered ones on candelabras, candles are an inexpensive addition to any party. I love these gold mercury glass ones that add a glowy aesthetic to your next party.
See more from my Rosé Kind of Day Party.
7. Straws and drink stirrers
Straws are so much fun to add to your event. Even better if you add on a cute straw flag printable. There are so many great paper straw varieties to match any theme. You can cut them down to match your drink glass size. Throw in a drink stirrer for even more pizzaz.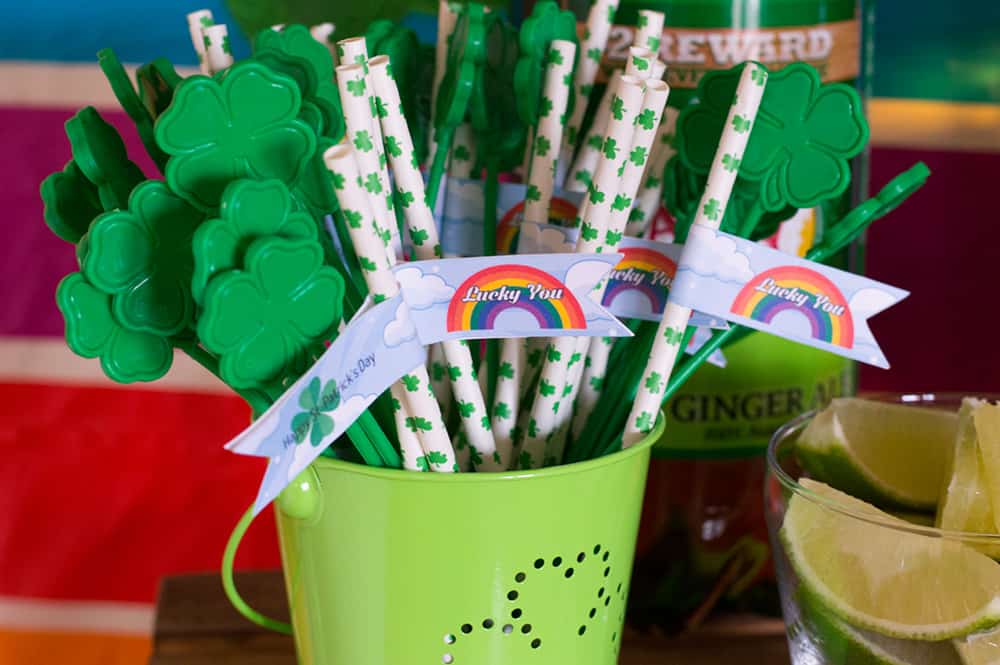 See more from my Lucky You St. Patrick's Day Party.
8. Coordinating Decoration Items
Finally, shop your home or head to Home Goods, Hobby Lobby, Target or Michael's for coordinating decor items and head online for the best deals.
Accent pieces can really pull your theme together with the best detail. I love checking out Bullseye's Playground at Target for $1, $3, and $5 finds.
See more from my Carrot Patch Easter Table.
At the end of the day, remember to enjoy your party and not stress out too much about the decorations. Keep it simple and focus on one or two areas. My favorites are styling a dessert table and either the food or bar table.
You don't have to go over the top to pull together a cohesive party. Simple touches can go a long way! I hope these 8 easy decoration ideas help you with your next party.
What are some easy decor items you like to include in your parties? Comment below!