This post and the photos within it may contain affiliate links. If you purchase something through the link, I may receive a commission at no cost to you. Read my disclosure for more info.
Set a Carrot Patch Easter Table with these ideas and free printables.
The weather in Minnesota is starting to get very Spring-like, which is odd for this time of year. Usually it's still pretty cold but instead we've been able to get outside and play without jackets.
I love that Spring is here and Easter is around the corner. It's time to share some Easter ideas!
This post and the photos within it may contain affiliate links. If you purchase something through the link, I may receive a commission at no cost to you. 
Carrot Patch Easter Table
I was originally planning on using more traditional Easter pastels for my Easter table, including pulling out these free Easter place cards from last year to style my table.
What ended up happening is I went to Target and found a ton of items in the Target Dollar Spot that inspired me to switch gears and try a Carrot Patch theme. I am so glad I did!
Carrot Centerpiece and Decor
First, I found the fabric carrots in the Target Dollar Spot and grabbed a coupled bunches. They come in a set of 3 and there's at least 3 different variety of designs to choose from. I held myself at two!
Then I found the green caddy and I knew it would work well to hold the carrots. I loved that it was already in my color scheme and so there was nothing to do to prep it.
I stuffed the caddy with some gift shred filler and then stuck the little carrots in, 3 on each side. I'm certain I'll find more uses for the caddy in the future. I love reusing party decorations over and over, to save both money and space in my house!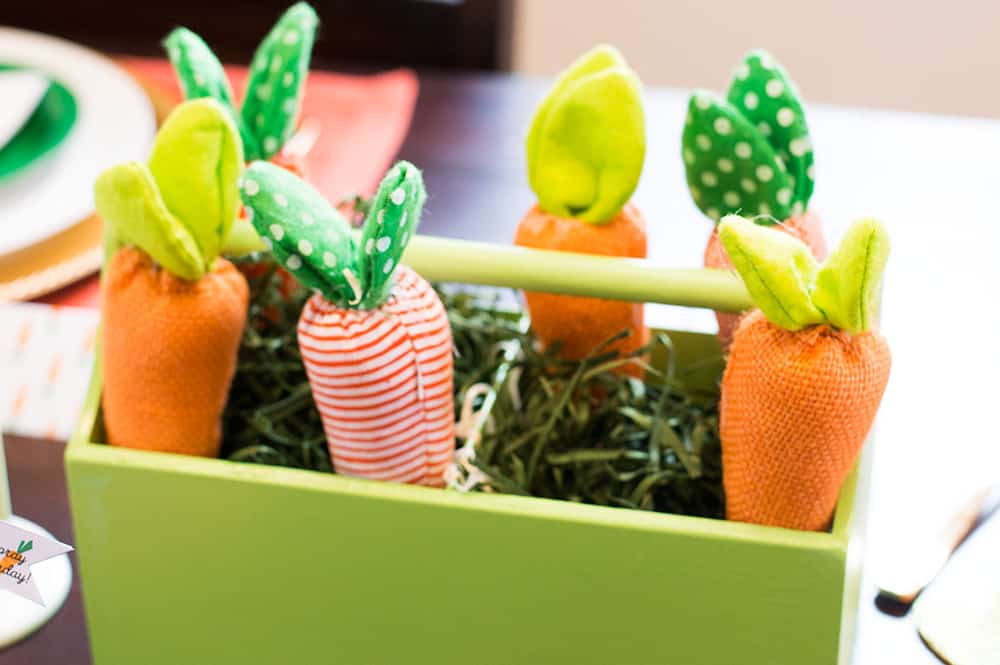 I also picked up the sweetest little ceramic bunny, which I placed on a cupcake stand, also from Target, to give him a little height.
Mini Grassy Carrot Patch
I wanted to add some more grass elements so I picked up two little grass pallets from Michaels, and stuck in these little paper carrots I found at Target. The carrots originally had little loops you could use to hang, but I cut those off.
If I use the grass pallets again, I may go one step further and find a container for these to sit in. I don't really like how you can see the plastic bottom, but I couldn't wrap my head around how to cover those and still pull off the look I was going for, so I just left it as is.
See them used again in my Kentucky Derby Party!
I also found some carrot cutouts in the Target dollar spot, some glittery and some not, that I used on the table. I placed a glittery carrot in between other decor items and used the rest on the chairs.
Tissue Tassel Bunting Chair Decoration
I have never made my own tissue tassel buntings from scratch until now. I've always bought them fully assembled, or at least pre-cut and then I had to roll and twist them.
While I am a huge fan of the fully assembled options to save on time (my favorite vendor is GlamFete), it actually wasn't too difficult to make my own.
I followed the tutorial from Andressa over at Twinkle Twinkle Little Party. She always has gorgeous tissue tassel buntings in her party setups so I know she's a pro at making these.
The tutorial was super easy to follow along, and I think mine turned out pretty great for being the first time.
I made two tassels per chair, strung on baker's twine, and stuck a carrot cutout for the center. My kids think these are so fun, and they didn't take a ton of time to put together.
Place Settings
For the place settings, I started with an orange placemat from Target.
Then I placed down the gold chargers I picked up for my Lucky You St. Patrick's Day Party. I layered my regular white dinner plate and a green paper plate (again leftover from St. Patrick's Day).
I also used the gold plastic utensils from that party too. I had extra carrot cutouts, so I slipped one under each knife and spoon.
Those napkin rings were found in the Target dollar spot, and while super cute, they are definitely more form over function. I wanted to use some cloth napkins but the rings are wood and I found it too small to get the large cloth napkin in the ring. I stuck with white paper napkins.
Each setting was personalized with a place card (more details in a bit) and topped off with a sweet little Lindt chocolate carrot umbrella.
I didn't notice until after all my photos were taken and I was in the editing process that somehow a spoon was not where it was supposed to be! Can you spot it? This is totally crushing my slightly OCD soul.
Carrot Patch Easter Table Printables
As a graphic designer, it was a must that I included some custom party printables on my table. I had so much fun putting together the place cards, sign, and straw flags.
Carrot Patch Cafe Sign
I love how this 4×6″ sign turned out! On one side is the cute little bunny graphic. I love how he's holding carrots. On the other side I have our Easter menu, which is totally customizable.
I printed out on my home printer and stuck it in an IKEA frame. I love these versatile frames and they are so inexpensive.
Place Cards
Each place setting was completed with a custom place card, as you saw above. I think it makes it extra special to assign seating, even if we are sitting in our usual places!
Easter Straw Flags
Straw flags are one of my favorite printable decor items to add to all my parties. They are so easy to put together and really dress up any drink. I have two versions available. I love how these turned out.
Download these files for yourself!
I loved how these printables turned out and I'm excited to offer these as free downloads for you!
To access the free printable, sign up for my newsletter below. You'll have access to all of the free printables on the blog!
Already have the password? Click here to be taken to the download area for all the Easter printables.
You'll be able to edit and add your own menu items and names using Adobe Reader and filling in the form fields or you can print and handwrite your info in.
For the straw flags, print, cut out, and use an adhesive to wrap around the straw. You can also attach to toothpicks for cute little food flags.
Spring into Easter Blog Hop
I've teamed up with 9 other bloggers who have put together a great selection of Easter ideas to celebrate with your family and friends. If you are coming from Style in the Details Girly Easter Brunch, "Welcome!" I've included links to all the blogs below so you can check them all out.
The next stop on the Spring into Easter Blog Hop is the Bunny Bash by A Lovely Design. Misha has put together the cutest little party. You can also check out all of the blogs via the links below:
Egg-stra Charming Easter Tablescape from Pretty Twinkle Party | Host A Super Girly Easter Brunch by Style In The Details | Bunny Bash from A Lovely Design | You Are Somebunny Special Easter Egg Hunt by The Party Porch | Bunny Treats Bar Cart and Party by Happy Family Blog | Easter Dessert Bar Cart from AK Party Studio | Flower Market Fun from Made of Sugar and Spice | Celebrate with Spring and Easter Vignettes by Sunshinetulip | Small Easter Party by Just a little Sparkle
Hope you enjoyed this Spring into Easter Blog Hop and found lots of fun ideas to incorporate into your own home.
If you are looking for more fun Easter printables, you might like my free Somebunny Loves You 8×10″ sign or these free Easter place cards. I also have some fun Easter printables for kids.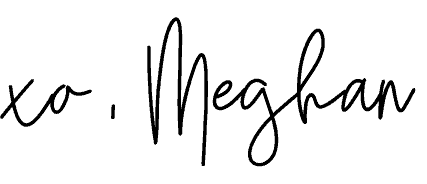 If you like what you see, please COMMENT, PIN, SHARE, or TWEET! I'd appreciate the love!