This post and the photos within it may contain Amazon or other affiliate links. If you purchase something through the link, I may receive a small commission at no extra charge to you.
Host an adventure through medieval times and celebrate with the fiery dragons at this Dragon Birthday Party.
Welcome to a magical realm of fire-breathing fun! Prepare to embark on an adventure filled with fierce dragons, daring knights, and captivating castles, all adorned with pops of bright colors that will ignite the imagination of every young adventurer.
Step into a world where medieval enchantment meets vibrant jubilation, as we invite you to a Dragon Birthday Party like no other.
I'm so excited to share all of the epically awesome details from this Dragon birthday party.
This post may contain affiliate links, which means if you make a purchase from my link I may make a small commission at no cost to you. For more information, visit my disclosures page.
What you'll love about this Party:
Dragon Party Ideas
We are a dragon-loving house and love the films such as the How to Train Your Dragon franchise, and the Disney+ offering, Raya and the Last Dragon.
I personally like that these Dragons are our friends, and to be celebrated, rather than feared.
When it came time to start thinking about a party theme for my oldest's seventh birthday, he immediately came to the conclusion to have a dragon-themed party and I got to work thinking about the color scheme and printables I would create.
Dragon parties offer so many options to take your theme in any direction. I've seen some really cute Puff the Magic Dragon parties, several variations of How to Train Your Dragon, to colorful dragon parties, or more medieval ones.
For our party, I knew that I wanted a mix of medieval touches but to keep it on the brighter side with rich greens and blues.
We moved into our new house two years ago and it's been fun getting to know different party spaces.
As this party took place during the Summer, we wanted to celebrate outside. However, our backyard can be scorching hot, so we opted to celebrate in the garage.
I also wanted to keep it fairly simple, with plenty of "breathing room" so I only opted to decorate a dessert table and a table setting.
I transformed the space by pulling out my husband's work table for the cake table and my trusty six-foot folding table for seating.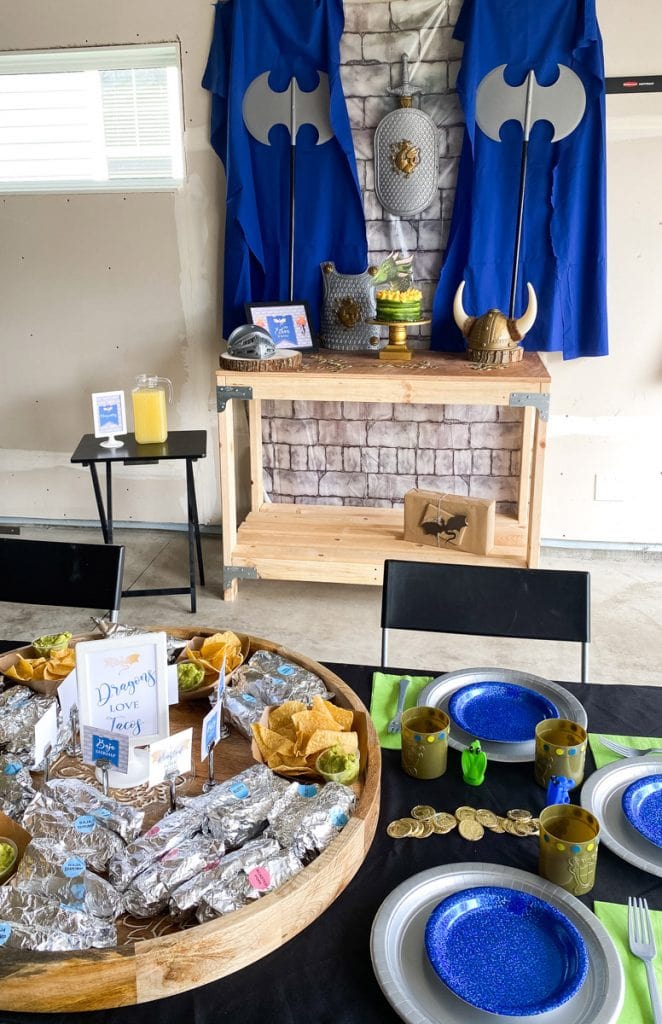 BIRTHDAY
DRAGON PARTY PRINTABLES
Shop a selection of Dragon party printables for an epically awesome event.
Dragon Birthday Party Dessert Table
For the dessert table, I started by hanging up this medieval stone backdrop that I also used at our Minecraft Birthday party. The sword and shield add some chivalry to the setup.
From there, I hung up some old fabric I had lying around (from a previous party) to look like curtains and placed the faux axes on top to create a striking backdrop (no pun intended!)
More armor, including this awesome Vikings helmet, a handful of gold coins, a sign declaring it Sir Ethan's seventh birthday, and a shimmery cake stand with a flaming dragon cake complete the backdrop.
DIY Dragon Grocery Store Birthday Cake
This dragon-inspired cake had our guests saying "wow" with every bite, especially as I shared the story about how this cake came to be!
So full disclosure, I completely lucked out on this cake. Target Bakery, my go-to cake place was not currently doing custom cakes so I hopped over to our local grocery store, Hy-vee, but they were already booked for the weekend!
My procrastination and lack of executive functioning got the best of me and I thought I was burned…
I panicked for a moment and then I put on my thinking cap.
Searching the ready-made cakes, I spotted this green one. It's actually supposed to be a sunflower, but with a bit of DIY, I was able to turn it into a fiery and majestic dragon by simply printing out a dragon head printable.
The next time you are in a bind, slow down and think about your options. You can get pretty creative with cake toppers or deconstructing a store-bought cake as I did at this Space birthday party.
other
Birthday Party Ideas
Dragon Birthday Party Table Setting
I wanted the table setting to be like a medieval feast, so I knew right away I wanted to use my large Pier 1 Board to display all of the food at the center of the table.
Pier 1 no longer sells my version of the board, but the Reluctant Entertainer sells a similar option here and has countless Big Board ideas.
From there, I opted to keep the colors bright and fresh with silver, blue, and green tabletop supplies.
Gold, jeweled cups (similar as the one shown are no longer sold) provide guests with a vessel fit for a king to enjoy lemonade for the kids and margaritas for the adults.
Gold coins, medieval stampers, and other treasures littered the table, providing some fun during the feast.
I often think about the environmental factor when purchasing these items. I love to pass these types of party supplies off to another family to use for a party after we're done.
Dragon Birthday Menu
When it was time to refuel, we had a spread fit for royalty.
The food choice for this party was clear – tacos! Because Dragons Love Tacos.
I decided to go with single servings to keep clean-up a breeze. I found a local caterer, Rusty Taco, who offered individually wrapped and labeled tacos.
I often cater food when I can, because making party food can be time-consuming and it's not something I really have the time or energy for – especially when I'm focused on the decor.
We enjoyed:
A selection of tacos including pork, shrimp, brisket, steak, and chicken
Chips and Guacamole served in little takeout containers
Mexican street corn (not pictured but these were scooped into individual cups)
A ready-made batch of Margaritas
It was all so very tasty!
More Dragon Party Decor & Activities
Shop the Dragon Printables
These Dragon printables were so fun to create and are so easy for you to personalize and print for your own event using Corjl, an online design tool where you edit right in the browser.
There's no software to download and several fonts are available to create a truly unique experience for your event.
Shop the full set for the best savings.
I hope you enjoyed this party and found some ideas for your own Dragon birthday party ideas!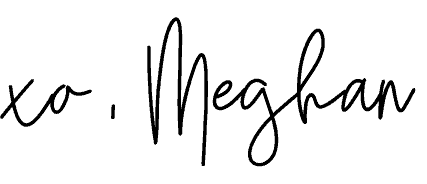 If you like what you see, please COMMENT, PIN, SHARE, or TWEET! I'd appreciate the love!