This post and the photos within it may contain Amazon or other affiliate links. If you purchase something through the link, I may receive a small commission at no extra charge to you.
If you are planning a party then you'll love this list of 50+ party supplies for entertaining success at your home.
I fully admit I hoard party supplies. Way too many if I'm being honest. However, I'm ready at a moment's notice to pull off a great party.
Today I'm sharing a list of more than 50+ essential party supplies to keep on hand for entertaining.
Whether you are pulling off an epic birthday party or dinner party at home with friends, you'll be ready to decorate with these supplies.
This post may contain affiliate links, which means if you make a purchase from my link I may make a small commission at no cost to you. For more information, visit my disclosures page.
Easy Decorations for Entertaining
1. Balloons in different sizes and colors
I love using balloons for a fun backdrop. Grab balloons in several colors and sizes for a unique look to create a balloon installation like this one at an adorable Puppy Party.
Or this fun balloon astronaut spread at a Space party.
2. Tissue tassel garland(s)
Tissue tassel garlands are inexpensive, whether you buy a ready-made garland, like this one from GlamFete that I used for Cinco de Mayo, or DIY your own with tissue paper.
3. Paper Fans
Paper fans are an easy way to create a fun backdrop. My favorite ones are from My Mind's Eye, which I used at this Noon Year's Eve Party.
4. Cake stands
I am obsessed with cake stands and probably have a dozen! Honestly, though, you only need one or two.
A classic white cake stand is versatile and will pair with any cake, but I sure love a pop of color like this teal stand (similar)that I used at my Girl Gang Valentine's Day party.
5. Candles
Birthday candles, votive candles, tapered candles. Keep a variety of types on hand to bring some soft glow to your spread or tablescape.
I love the ambiance the candles bring to this simple Fall tablescape.
6. Vases
Vases can be used for flowers or centerpieces. I buy a lot from Dollar Tree or the Target dollar spot, but I will occasionally splurge on a fun vase like this one I used at a 4th of July tablescape.
7. Glass Jars
Mason Jars
Small Jars with Lids
Keep a variety on hand to serve candies, drinks, or party favors.
8. Photo frames in different sizes
I like to use simple black or white frames, with 8×10″ and 4×6″ being my go-to size.
I have a ton of the IKEA Toslby frames, which are great to add in printable party signs around your event. You can leave them white or spray paint them to match your color scheme.
9. Photography stand and backdrop fabric
This photography stand has been essential to me to create fun backdrops for my children's birthday parties. You can hang posters, paper flowers, banners, and more to create a uniquely themed backdrop for your party.
Table Top Supplies for Entertaining
10. 4-6" folding party table
I love to have an extra table that can be set up as the dessert table or to use in the backyard as an extra dining table. One that folds will save room in storage and is easier to haul around.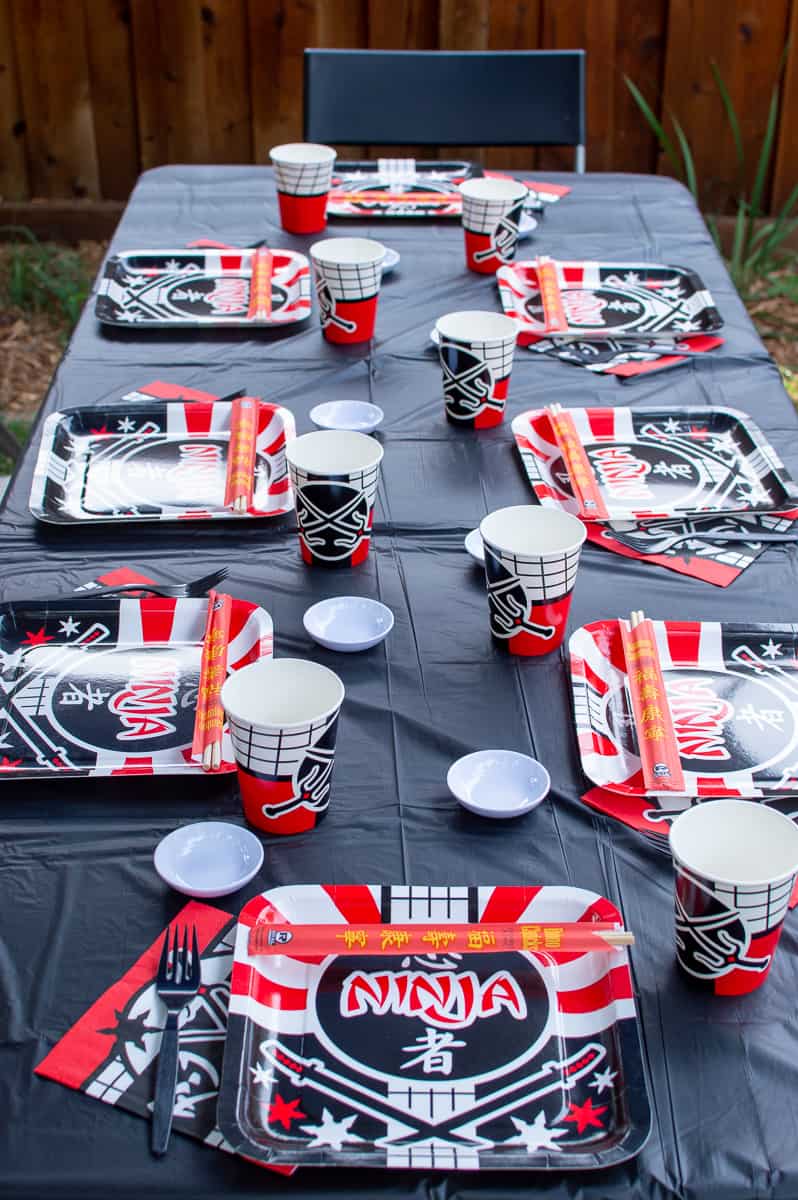 11. Tablecloth
A simple white table cloth can elevate your event or dinner party and pairs with any other color scheme.
12. Table runner
I am obsessed with table runners and appreciate that they take way less storage space than having a bunch of tablecloths. I pair a simple white tablecloth with a fun runner.
My favorites are buffalo check. I have both a black and white version and a blue and white version for a farmhouse feel.
13. Table skirt
Table skirts work great on the folding party table to hide the ugly legs. I bought this black cloth table skirt and cover and it's held up well for multiple parties, but I've often used disposable table skirts for specific needs.
14. Cloth napkins
Cloth napkins are a fun way to add in a fun pop of color or pattern and are not as expensive as table cloths.
15. Napkin rings
Napkin rings are another small detail you can add to your table and you can even DIY them as I did for this Festive Fall Tablescape.
16. Charger plates
I love the look of charger plates, but I'll be real that I don't spend a lot of money on them. Some of these are ridiculously priced, and if you have the budget for it, great. But I don't! I buy these at Dollar Tree and Michael's so they tend to be $1 – $5 a piece.
I love gold, rose gold, white, and silver chargers. You can also try a hyacinth placemat for a farmhouse look.
17. White dinner plates
Having a good set of white dinner plates never goes out of style. I know some people have tons of dish sets but I'm pretty sure my husband would go ballistic if I shoved several sets in our house!
Instead, I use my go-to, had for almost 10 years, Crate and Barrel plates that work with any tablescape.
18. Flatware
Having a set of high-quality flatware will go a long way to setting a beautiful table. You can choose traditional silver or a fun gold or black set.
19. Disposable flatware
Disposable flatware is also an easy choice to entertain at a moment's notice, and is ideal for a backyard gathering. I'm a big fan of these wooden cutlery sets, like the ones I used at my son's lumberjack first birthday.
20. Paper plates
Paper plates are an affordable option to carry your theme through the party. They come in adorable options and are so fun to layer for a unique look.
21. Paper napkins
I love keeping fun beverage and dinner napkins on hand. They make for easy cleanup and can really bring my theme to life.
22. Disposable cups
While I have a lot of drinking vessels, from mason jars to champagne glasses, keeping a stash of disposable cups is necessary for parties with little kids or for outdoor gatherings where you don't want to use your glassware.
23. Paper straws
Paper straws add a little pizzazz to your cup. And what goes along with paper straws? Why straw flags of course. I LOVE paper straws and they are much more eco-friendly than their plastic counterparts.
Now they do tend to get a little soggy after a while, but they look oh so cute I forgive them for that!
24. Serving platters, trays, bowls, and stands
The pros say you can't go wrong with white serving dishes and I totally agree. They pair well with any color scheme and any food you are serving.
25. Drink dispenser
Serving a signature drink is one of my go-to party favorites. But it's even better when I can make up a fun punch and make it serve yourself. Having a drink dispenser is great for both adult parties and kid parties.
I love this mason jar style, but anything will do. Some even come with two containers, which are perfect for pairing lemonade and water.
26. Ice bucket
You'll need to keep those self-service drinks cold and there's no easier way than by having ice available. Keep it cold in an ice bucket.
Party Tools To Save Time, Energy, and Do All The Things
26. Balloon pump
Remember all those balloons mentioned earlier? You definitely want to invest in a ballon pump to save your lungs. Trust me!
I recommend both an electric balloon pump as well as a manual handheld pump – sometimes double stuffed balloons can't be pumped up with an electric pump, especially the cute 5″ mini balloons.
28. Balloon tying tool
Your hands with thank me later if you invest in a balloon tying tool. After tying 30+ balloons your hands will start to cramp.
29. Balloon strip
There are many ways to do balloon garlands but one of the easiest ways is to use a balloon strip. Simply push the tied ends through the little holes for a DIY garland in a snap.
30. Scissors (variety of types for paper, fabric, and wire)
Have the right scissors for the job. My kids know that I have one pair of scissors that are only to be used for paper, or else!
But seriously, if you are using a pair for paper, you do want to also be using them to cut out something that will damage the blade or you'll get ragged edges on your party printables.
31. X-Acto knife
An X-acto knife can help you get a precise cut that scissors just can't do.
32. Stapler
I don't use my stapler too often, but it's definitely come in handy when making bows out of ribbon, or modifying tissue tassel banners.
33. Hole punch
I should probably say hole punchers as you might want to invest in a normal size but also a small size depending on the size hole you want. I love this mini hole puncher to use to attach baker's twine to for banners.
Tying, Hanging, and Sticking
34. All different kinds of tape
Different tape does different jobs. Be sure to have options on hand so you're ready for every project. My favorites are:
Clear
Duct
Painter's
Electric
Double-sided tape
Washi tape
35. Glue Dots
Glue dots are little life savers! I love using glue dots to attach cupcake toppers to popsicle sticks or create layers with paper products.
36. Glue gun and glue sticks
Invest in a decent glue gun that gets to a nice heat and spreads glue on smoothly.
37. Fishing line
Fishing line is very versatile for hanging and creating balloon garlands.
38. Floral wire
I'm going to admit that it took me a long time to get on the floral wire bandwagon. I didn't realize the potential until I finally started using it. I've since been able to make better floral arrangements because of it.
39. Baker's twine
I love my baker's twine, gimme all the colors! This twine is perfect for stringing a DIY paper banner or tying up a fresh loaf of bread for a neighbor.
40. Hemp twine
This is another great tying contraption to have on hand. Sturdier than baker's twine, it can hold heavier banners and provide a rustic feel when tied around mason jars.
41. Raffia
Raffia can also look really pretty tied around mason jars for an added effect.
42. Ribbon
Ribbon can really elevate any gift or decor. Tie it around a bottle of wine for a hostess gift, on the stem of a wine glass for a festive look, or create a rag ribbon banner.
43. Clothespins
You will want standard and mini clothespins. These are great for hanging paper banners on twine or even chips for a walking taco bar like this one at the Rosé and IPA Wedding Shower.
Electronic Party Essentials
44. Extension cord
Need to set up a sound system outside or hook up a crockpot in the middle of the garage? You're going to need an extension cord.
45. Portable speaker
Music provides ambiance and a portal speaker is a great way to bring music, especially when entertaining outside.
A JBL Flip 5 can pack a lot of sound in a small device.
46. Home printer
I print most of my party printables at home. I use a Canon TR8620 but I'd love to upgrade to a craft printer that can handle larger sizes.
47. Printer ink
Having enough printer ink on hand is essential. Check your supplies often and always have extras on hand. I have literally had to Amazon Prime Now printer ink an hour before a party because I ran out.
48. Silhouette or Cricut Cutting Marhine
Totally optional, but totally helpful in getting precision cuts to your decor and printables. You can craft so many fun DIYs like large paper flowers or "print and cut" out cute cupcake toppers and more.
While not numbered on the list, if you invest in a cutting machine, you'll definitely want to consider keeping some vinyl on hand — in permanent, removable, or heat transfer vinyl depending on your project.
Paper Goods to Keep on Hand
49. White cardstock
If you want to use party printables you will need a good sturdy cardstock.
50. Color cardstock
Color cardstock can allow you to make a lot of beautiful decorations. Get some in 12×12 sizes, along with letter, to make DIY paper flowers.
51. Wrapping paper
Not only can you wrap beautiful gifts, you can use wrapping paper to create backdrops or table runners.
52. Tissue paper
Tissue paper can help you wrap gifts on the fly, but also create your own DIY tissue tassel banners like these Easter chair backers.
Writing Supplies
53. Sharpies
Sharpies come in all the colors and can be used for DIY art to writing names on disposable cups at parties. I always have a few on hand.
54. Chalkboard marker
Chalkboards are a lot of fun for displays. Using a chalkboard marker ensures a clean look without all the dust!
55. Paint pens
Paint pens can be used on glasses and acrylic signs for a personalized, hand-lettered look.
---
How many of these supplies do you already have on hand? What's missing? Drop a comment!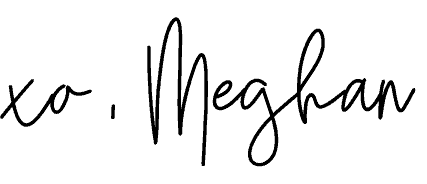 If you like what you see, please COMMENT, PIN, SHARE, or TWEET! I'd appreciate the love!