This post and the photos within it may contain affiliate links. If you purchase something through the link, I may receive a commission at no cost to you. Read my disclosure for more info.
Never dig straight down at this Minecraft party full of free Minecraft party printables, menu ideas, and Minecraft party decoration ideas.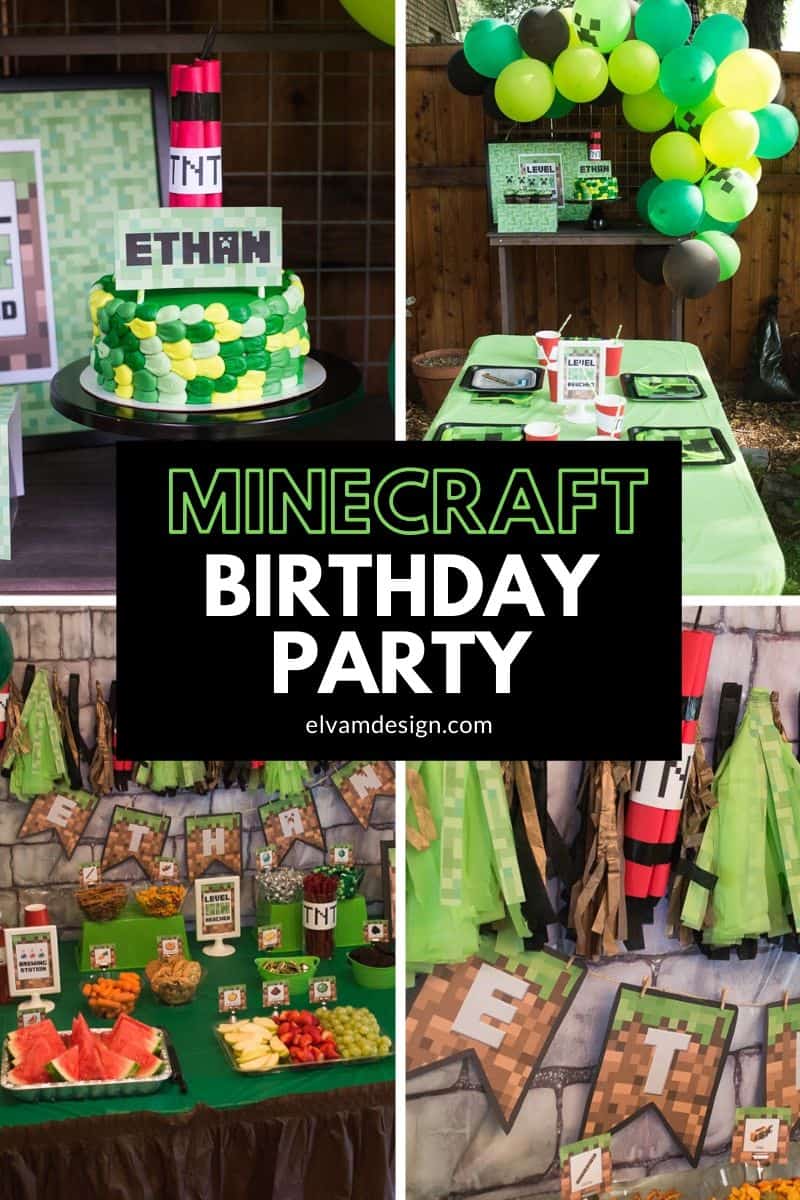 My son started playing Minecraft last year, well actually he mostly plays Block Craft, which is similar to Minecraft and "less scary," but that's beside the point.
When we started thinking about party ideas, Minecraft came up. And it came up again, and again, and again.
When it didn't go away, I relented. Alas we had a theme picked out for Ethan's 6th birthday. Hooray!
I will be honest, this theme had me sweating as I knew nothing about the game.
So I did what any Mom in this situation would do. I headed off to Google and Pinterest and started searching away for Minecraft party ideas.
I really loved putting all of the details together for this party. I learned a ton about the game and my son and I got to connect and plan things together. It really is the best to get my kiddos involved in planning their birthday parties.
Minecraft Party Ideas
I hope you love all of the epically awesome details from this Minecraft birthday party.
What you'll love about this party:
Yes, you read that last bullet right, I'm sharing all of the free printables you see here.
Read on for all of the fun Minecraft birthday party details and grab your free Minecraft printables at the bottom of this post.
This post and the photos within it may contain affiliate links. If you purchase something through the link, I may receive a commission at no cost to you. 
Minecraft Birthday Party Dessert Table
My son's birthday is in August so we like to host the birthday party outside in the backyard whenever we can.
I used my potting table to set up the dessert table and decorated it with a DIY balloon garland.
For this balloon garland, I used the string method where you tie each balloon on, though many times I will use a balloon strip.
Grab some black, dark green, lime green, and these fun creeper balloons. Pick your length and arrange them until you get the look you want.
On the table I placed a large 16×20″ sign that I DIY'd using a pixelated design that I printed out on card stock and added a letter-sized sign that says "Level Six Reached."
DIY Minecraft Birthday Cake
The cake was a Target bakery cake that I had them use different colors of green frosting along the side.
On top I placed a bundle of TNT that is made out of card stock and placed a little sign with Ethan's name on top. I love inexpensive but totally awesome cakes.
We also had the bakery make chocolate cupcakes with green frosting and printed out some creeper faces for cupcake toppers.
Minecraft Birthday Party Table Setting
I kept the party table pretty simple, but you could place party favors or add more Minecraft decor to it if you wanted.
I used a little mini version of the "Level Six Reached" party sign as a centerpiece.
Using simple black dinner plates, I found these Minecraft dessert plates from Oriental trading, along with Creeper napkins. Oriental Trading has a slew of Minecraft party decorations.
I also picked up some lime dessert plates to make a coordinating look. On these I placed the Creeper napkin on top of the plates.
Take red cups and print out the TNT label that is used for the TNT bundles and your table is set.
Minecraft Birthday Food Table
Inside we kept the food and boy was it a fun spread!
These party balloons were so fun on the door and really pulled the decor from inside to out.
I was inspired by Simply Sprout's Minecraft party over on Oriental Trading's Fun365 to create a fun Minecraft party backdrop.
I started with the stone table cover roll and hung it on my photography backdrop that works great for party backdrops.
I followed the tutorial to create this Minecraft TNT party banner.
Instead of using the pixelated green bandanas like in the tutorial, I simply took a plastic table cloth roll and made my own green tassels. On top of these I attached strips of printed out green pixelated paper.
Underneath the tissue tassel banner, I hung a printable banner that said the birthday boy's name.
You'll be able to create your own name banner with the free printable set. All letters in the alphabet are included!
Cover the table with a green table cover and brown table skirt or use this Minecraft table cover.
Add a couple of signs and your party table is ready for the food.
Minecraft Menu Ideas
The Minecraft party menu was so much fun to put together, and also included a lot of healthy options. Look at all this fruit!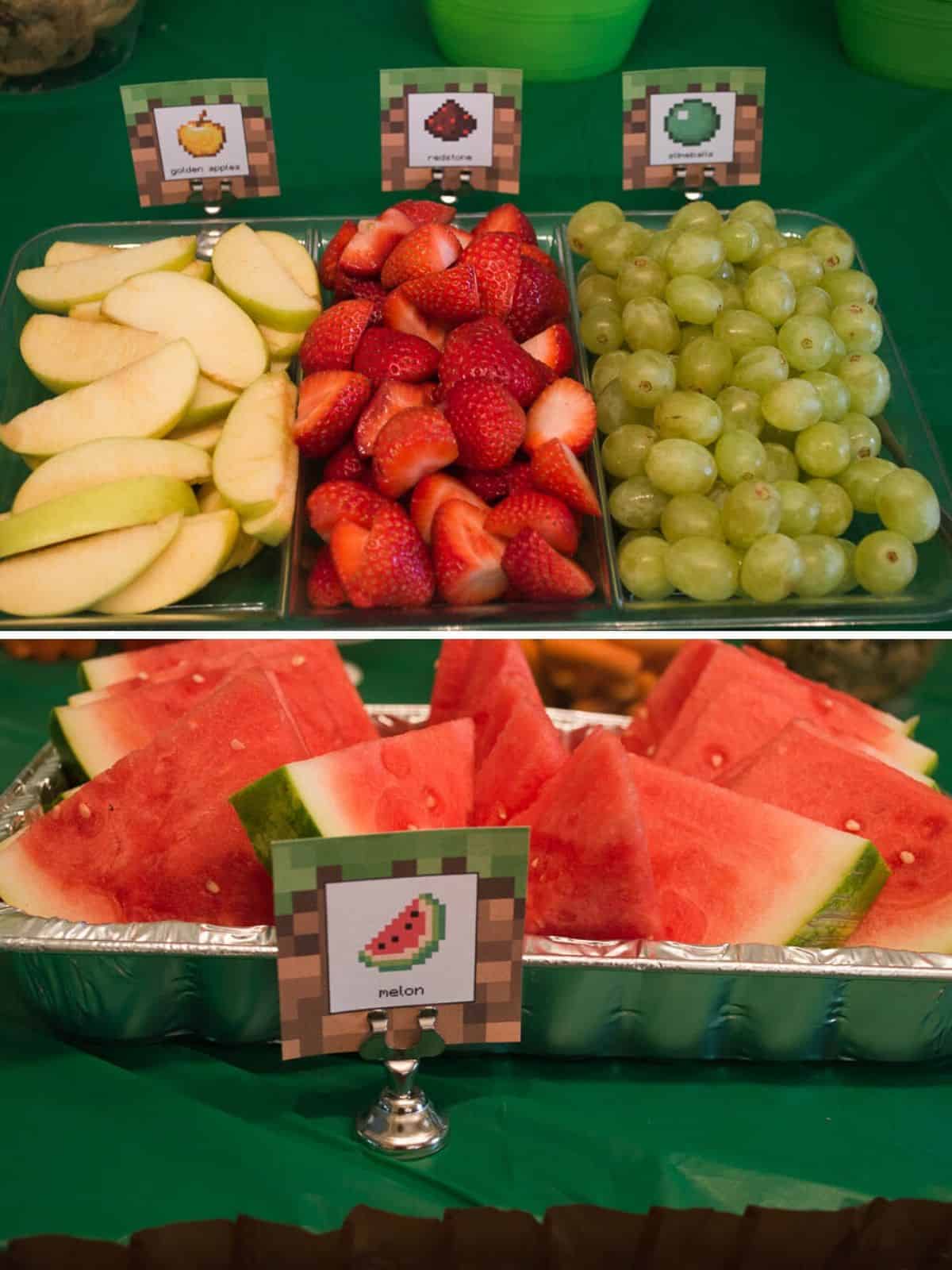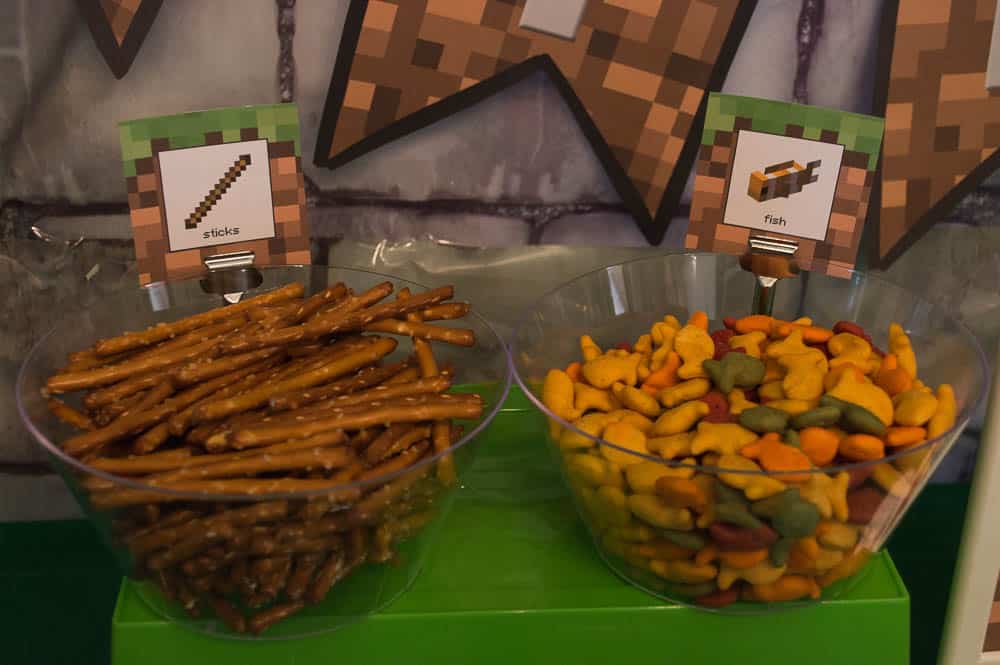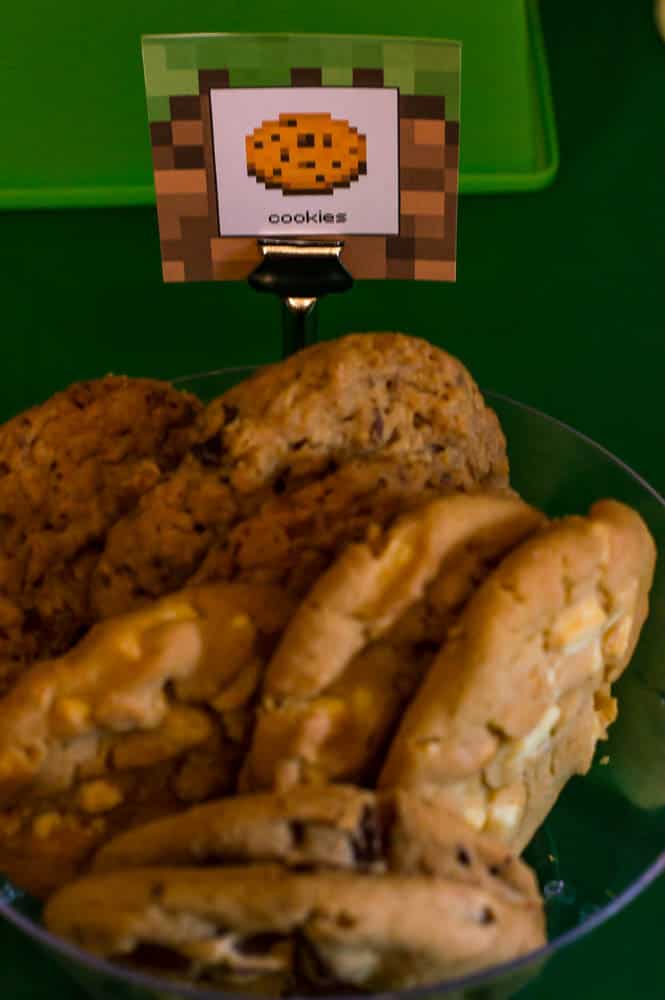 Simply give your food a fun label and it goes from plain to fabulous in minutes.
Looking for more menu ideas?
Minecraft Menu Ideas
Need ideas on what food and drinks to serve for a Minecraft party? Check out this huge list of Minecraft menu ideas.
---
OTHER POSTS YOU WILL LOVE:
---
Free Minecraft Party Printables
These Minecraft party printables are completely free and many are editable to get a personalized party.
Here's what is included in this Minecraft party printable set:
Invitation
Minecraft 8×10″ Signs: "Never Dig Straight Down" and "Creep on in the party is here"
4×6″ Brewing Station Sign
4×6″ Editable Birthday Sign (not shown)
Alphabet banner
Minecraft cupcake toppers
Minecraft food tags (all the menu choices above)
Food Tent Cards
Straw flags
Bottle labels
TNT Wrappers
Green pixel paper
Simply fill out the form below and you'll receive the printables right in your inbox. You'll also receive the password to the free printable library, which provides you access to all of the free printables on elvamdesign.com.
FILL OUT THIS FORM BELOW AND THE PRINTABLES WILL BE SENT TO YOUR INBOX!
PIN FOR LATER:
I hope you enjoyed this party and found some inspiring Minecraft birthday party ideas!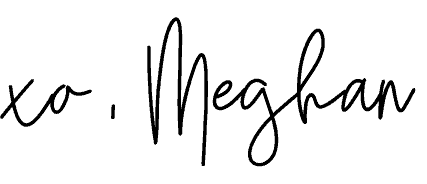 If you like what you see, please COMMENT, PIN, SHARE, or TWEET! I'd appreciate the love!
More Kids Birthday Parties
Looking for other great birthday party ideas for kids? Check out some of our favorite parties!