This post and the photos within it may contain Amazon or other affiliate links. If you purchase something through the link, I may receive a small commission at no extra charge to you.
This Locally Grown Baby Shower is so sweet and bursting with fun printables to recreate this look, whether for a virtual shower or in person.
My family recently welcomed not one, not two, but three babies during this global pandemic, which means our typical way of celebrating baby showers is unfortunately not possible.
But alas, we didn't let that stop us from welcoming the wee little ones.
I was so excited to host a virtual baby shower for my cousin and his wife to welcome their baby boy.
Our family is made up of proud Minnesotans. We have so much state pride and I am really glad that my husband and I made the move back from Chicago after we got married.
Minnesota has been a great place to raise our three boys and I'm excited to watch my family members expand their own families.
This post may contain affiliate links, which means if you make a purchase from my link I may make a small commission at no cost to you. For more information, visit my disclosures page.
Locally Grown Baby Shower
While this shower was a virtual shower — and I'll be speaking to a few points to make it super special for the new parents — this theme can also be used during normal times, and boy do I hope we get back to those days soon!
I also want to call out that while the theme is Locally Grown in Minnesota, you can easily adapt it to any state!
Live in Colorado? Great! Swap out the state image for your own!
Lucky for you Minnesota folks, I have the files available for purchase in the shop.
Locally Grown Baby Shower Party Printables
Virtual Baby Shower Invitation
First things first, I sent out a Facebook invite with the details for the virtual shower, including a Zoom link for a live component.
While I love paper invites, I have to be honest I've been a bit lazy and have tended to prefer Facebook invites. However, I still drop in a traditional "invitation" as an image on the event page.
This set includes a 5×7″ invite, which you can choose to send digitally or get printed.
Zoom Backgrounds and Printable Decor
As part of the invite, I also dropped in some fun Zoom backgrounds. There are three versions available.
I also included links to a few printable signs that guests could use to decorate their space.
This worked well for those less technically savvy folks who might not be able to get the Zoom backgrounds to work but who had a home printer and could manage to print off a sign or two to hang behind them.
Baby Shower Games
Virtual baby showers have that added awkward element of no one being in the same space but having to socialize.
I find it easiest if your group already has a connection, but it certainly doesn't have to be the case to have a successful virtual baby shower.
Wishes for Baby
Probably my favorite baby shower activity is Wishes for Baby.
It's perfect for introverts and so fun for the parents to read through the funny and sentimental statements.
As part of the Facebook invite, I attached a download file for the Wishes for Baby activity card and requested that guests fill it out and send it off to the parents.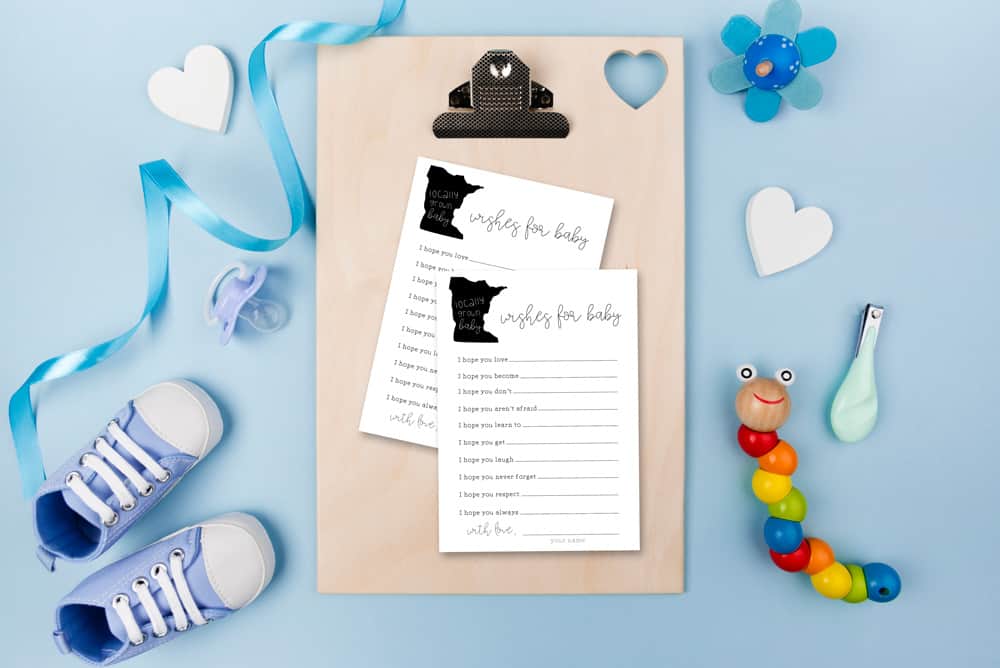 If you are mailing out a traditional invite, you could include the printable and even include a stamp so guests can mail it back— no excuses!
This one is easier with the go-getter guests. You might have to encourage, remind, and proceed to yell at guests to complete this!
The Price is Right
I purchased a Price is Right PowerPoint template on TpT.
For only $5.00 (at the time of this posting) it was an inexpensive way to create a fun digital game that can easily be played over Zoom.
Here are a few screenshots from my game:
Add your face to the host slide — so fun and a great way to start the game and share the rules.
Guests will guess the price of well-known baby products. Once they guess, click to the next slide and the price will appear.
Each game will have more questions. A search for baby shower trivia provided questions and answers.
The best part was all the animations and sound effects!
While the template has several games available, I chose about 3-4 to play and pretty quickly adjusted each game for the baby shower.
While everyone was chatting, I split our guests into two groups to play and then announced the rules.
My family is kind of competitive, so it was awesome to see people engaging and excited to participate.
If you really want to up the ante, you could email a digital gift card to the winners.
If you are looking for "already done for you" interactive game templates, you're in luck! I found the following on Etsy:
Virtual Baby Shower Care Package for the Parents-to-Be
The parents-to-be only live about eight minutes away from me. On the day of the virtual baby shower, I dropped off a small care package that included a few goodies for them to enjoy during the zoom call.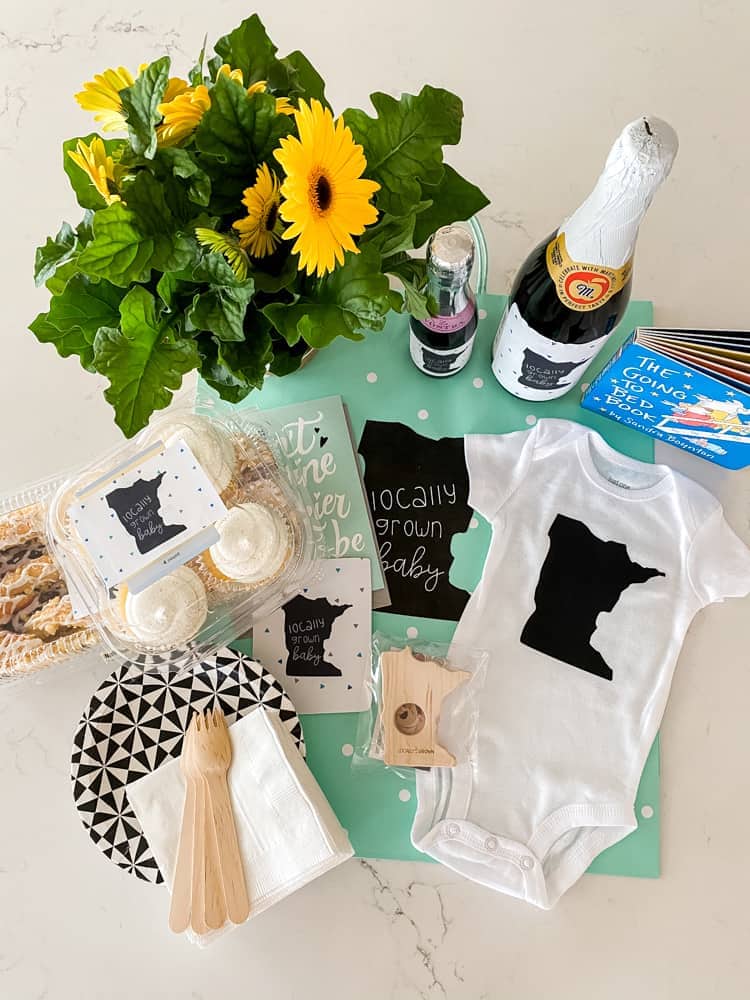 The virtual baby shower care package included:
Coffee cake
Cupcakes
Plates, forks, and napkins
Bottle of sparkling cider for Mom
Small bottle of champagne for Dad
Homemade Minnesota baby bodysuit
Flowers
A book for baby's library (We love Sandra Boynton and The Going to Bed Book)
Locally Grown Minnesota teething toy (they have every state available)
If you don't live near the guest(s)-of-honor you can always get a small meal delivered from a local restaurant or ship some non-perishable goodies ahead of time.
First, to package it all up, I created some custom stickers that I used to decorate the gift bag, bottles, and treats.
Baby Shower Treats
Since we normally have something to eat at a normal in-person shower, I thought providing a few sweet treats would be a nice touch for the parents-to-be. I also invited guests to share in something from their own homes.
It doesn't have to be fancy either. I picked up some goodies from Target.
Don't forget to include some cute plates and utensils, making clean up a breeze! These geometric plates are so fun from Sprinkles & Confetti.
In fact, Sprinkles & Confetti can put together a little care package for you with their custom party boxes and gifts for new moms and dads.
Don't forget to include something to wash the treats down. I chose sparkling cider and mini bottle of champagne, but other ideas include sparkling water, lemonade, or cold press!
Printing out some cute bottle labels makes anything look festive. Tie a ribbon around the bottles for an added touch.
I love mini champagne bottles, they make great party favors during normal times!
Minnesota Baby Shower Gifts
If you are looking for fun Minnesota Baby Shower gifts, look no further.
Minnesota Teether
I love the little Minnesota wood teether from Smiling Tree Toys. They are a Minnesota-based company but you can order any state.
When my youngest was a baby, we had Illinois as that is where my husband is from and where we lived together before we were married.
Minnesota Baby Bodysuit
I used my Silhouette Cameo to make a homemade gift, a Minnesota bodysuit for the new babe to show off his state pride.
Whether you have a Silhouette or Cricut cutting machine, this was a breeze to make. I'm just starting to venture into heat transfer vinyl, so if I can do it, you can too!
You will want to check out the Cricut EasyPress. It makes the iron-on step so easy!
Virtual Baby Shower Planner
Planning a virtual baby shower can be a little overwhelming – it's certainly a new way to party! Grab the Ultimate Virtual Baby Shower Kit for a step-by-step guide as you plan your event.
E-Book
The Ultimate Virtual Baby Shower Kit
A 50+ page comprehensive resource and workbook for hosting a fun and engaging virtual baby shower
I hope you enjoyed these Locally Grown baby shower ideas. This virtual baby shower was a nice way to connect as a family and celebrate a new baby on the way.
Free Virtual Baby Shower Checklist
Before you head out, grab our free Virtual Baby Shower Checklist. It helps you plan by telling you what to do when. Simply enter your details in the form below and it will be sent straight to your inbox.
Have you hosted a virtual baby shower? What do you think of this Locally Grown baby shower theme?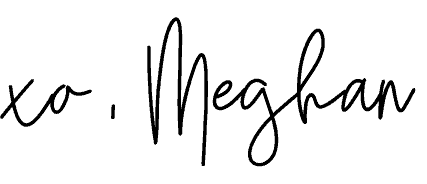 If you like what you see, please COMMENT, PIN, SHARE, or TWEET! I'd appreciate the love!